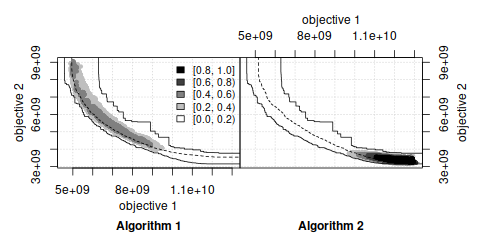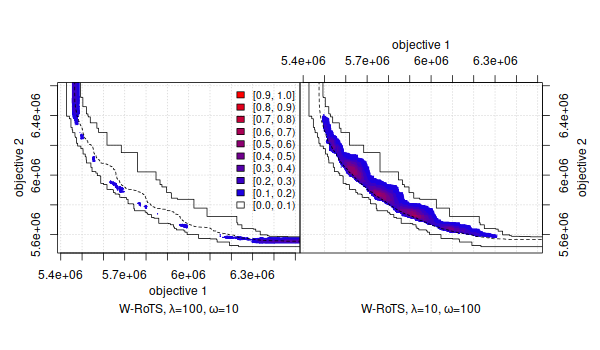 Introduction
The empirical attainment function (EAF) describes the probabilistic distribution of the outcomes obtained by a stochastic algorithm in the objective space. This R package implements plots of summary attainment surfaces and differences between the first-order EAFs. These plots may be used for exploring the performance of stochastic local search algorithms for biobjective optimization problems and help in identifying certain algorithmic behaviors in a graphical way.
The corresponding book chapter [1] explains the use of these visualization tools and illustrates them with examples arising from practice.
In addition, the package provides functions for computing several quality metrics, such as hypervolume, IGD, IGD+, and epsilon.
Keywords: empirical attainment function, summary attainment surfaces, EAF differences, multi-objective optimization, bi-objective optimization, performance measures, performance assessment, graphical analysis, visualization.
Relevant literature:
Manuel López-Ibáñez, Luís Paquete, and Thomas Stützle. Exploratory Analysis of Stochastic Local Search Algorithms in Biobjective Optimization. In T. Bartz-Beielstein, M. Chiarandini, L. Paquete, and M. Preuss, editors, Experimental Methods for the Analysis of Optimization Algorithms, pages 209–222. Springer, Berlin, Germany, 2010.
(This chapter is also available in a slightly extended form as Technical Report TR/IRIDIA/2009-015).
[ bibtex | doi: 10.1007/978-3-642-02538-9_9 | Presentation ]